---
Qingyuan Huanan Copper and Aluminum Co Ltd ALL Right Reserved.
---
Qingyuan Huanan Copper and Aluminum Co Ltd.is a comprehensive type of aluminum products, large-scale production enterprises, a total investment of two hundred million yuan.
the construction scale is one of the largest area of our country Southern China, aluminum processing enterprises perfect.
the company has strong technical strength, with advanced production equipment and management system, the quality of the products reach the domestic advanced level.
The company is located in Guang Qing highway Yinzhan toll station side, high tech Industrial Development Zone, the transportation is very convenient. The company covers an area of about 400000 square meters, production line fast melting furnace with 18 with the world's advanced level of the same level of close packed hot top casting technology; 20 Japan, Germany imported extrusion production Line, there were 600 tons, 1000 tons, 1800 tons, 2500 tons of different types.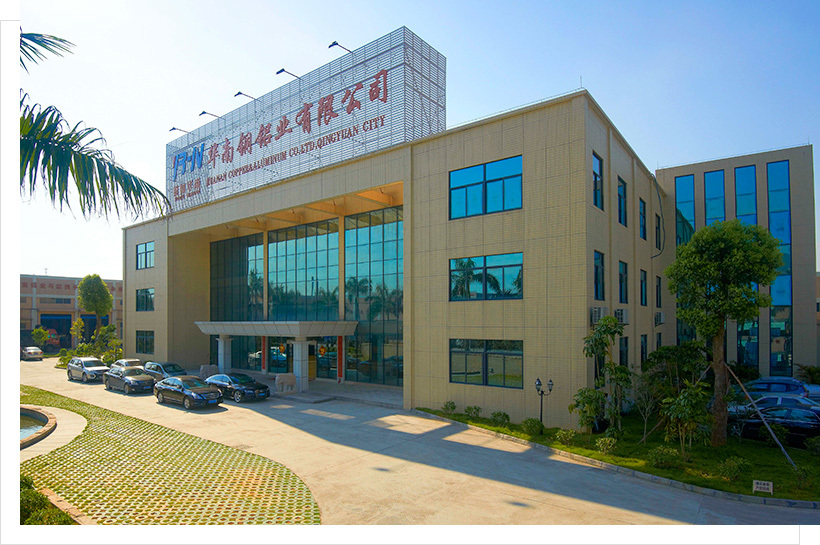 At the same time the introduction of electrophoresis production line oxidation imported from South Korea, a vertical and a horizontal Swiss horse spraying production line and a thermal insulation material production line. And the international advanced strip production equipment; a heavy four reversible cold rolling mill; two 950 x 1660 tilt casting line; two 700 x 1550 horizontal casting rolling line; a 8 roller tension machine; a CNC plate shearing machine; three sets of automatic temperature control of annealing furnace., formed from the design and manufacture of die casting, extrusion, spraying. To complete the deep processing of aluminum Wood industry chain.
Sold in Chile, South Africa, Columbia, Argentina and Australia and other parts of the world, the quality of products by customers and social identity. The company informatization level is high, stable production quality, marketing network and customer service service system, is entering the fast track, will be among the world's large enterprises aluminum array.
Qingyuan Huanan Copper and Aluminum Co Ltd
Contact

Fax:0763-3153380(sales) 3153311(sales) 3153382(procurement)


Add:Qingyuan city qing highway silver light toll station side


Copyright © 2022 Qingyuan Huanan Copper and Aluminum Co Ltd ALL Right Reserved.